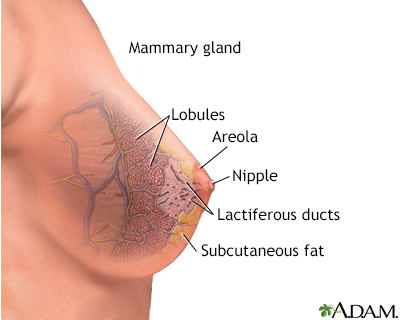 Breast cancer is an uncontrolled growth of breast cells. To better understand breast cancer, it helps to understand how any cancer can develop. Cancer occurs as a result of mutations, or abnormal changes, in the genes responsible for regulating the growth of cells and keeping them healthy. The genes are in each cell's nucleus, which acts as the "control room" of each cell. Normally, the cells in our bodies replace themselves through an orderly process of cell growth: healthy new cells take over as old ones die out. But over time, mutations can "turn on" certain genes and "turn off" others in a cell. That changed cell gains the ability to keep dividing without control or order, producing more cells just like it and forming a tumor.
The term "breast cancer" refers to a malignant tumor that has developed from cells in the breast. Usually breast cancer either begins in the cells of the lobules, which are the milk-producing glands, or the ducts, the passages that drain milk from the lobules to the nipple.
Over time, cancer cells can invade nearby healthy breast tissue and make their way into the underarm lymph nodes, small organs that filter out foreign substances in the body. If cancer cells get into the lymph nodes, they then have a pathway into other parts of the body. The breast cancer's stage refers to how far the cancer cells have spread beyond the original tumor.
Breast cancer is always caused by a genetic abnormality (a "mistake" in the genetic material). However, only 5-10% of cancers are due to an abnormality inherited from your mother or father. Instead, 85-90% of breast cancers are due to genetic abnormalities that happen as a result of the aging process and the "wear and tear" of life in general.
There are steps every person can take to help the body stay as healthy as possible, such as eating a balanced diet, maintaining a healthy weight, not smoking, limiting alcohol, and exercising. While these may have some impact on your risk of getting breast cancer, they cannot eliminate the risk.
Developing breast cancer is not your or anyone's fault. Feeling guilty, or telling yourself that breast cancer happened because of something you or anyone else did, is not productive.
Stages of Breast Cancer
The stage of a breast cancer is determined by the cancer's characteristics, such as how large it is and whether or not it has hormone receptors. The stage of the cancer helps you and your doctor figure out your prognosis (the likely outcome of the disease), as well as decide on the best treatment options for you.
Breast cancer stage is usually expressed as a number on a scale of 0 through IV — with stage 0 describing non-invasive cancers that remain within their original location and stage IV describing invasive cancers that have spread outside the breast to other parts of the body.
You may be familiar with the statistic that says 1 in 8 women will develop invasive breast cancer. Many people misinterpret this to mean that, on any given day, they and the women they know have a 1-in-8 risk of developing the disease. That's simply not true. In reality, about 1 in 8 women in the United States —or about 12 out of every 100 — can expect to develop breast cancer over the course of an entire lifetime. In the U.S., an average lifetime is about 80 years. So, it's more accurate to say that 1 in 8 women in the U.S. who reach the age of 80 can expect to develop breast cancer. In each decade of life, the risk of getting breast cancer is actually lower than 12% for most women.
Even though studies have found that women have a 12% lifetime risk of developing breast cancer, your individual risk may be higher or lower than that. Individual risk is affected by many different factors, such as family history, reproductive history, lifestyle, environment, and others.
Risk Factors you Can Control
Weight: Keep your body weight in a healthy range for your height and frame. Body mass index, though not a perfect measurement, can help you estimate your healthy weight.
Diet: 

Eat plenty of vegetables and fruit (more than 5 cups a day).
Try to limit your saturated fat intake to less than 10% of your total calories per day and limit your fat intake to about 30 grams per day.
Eat foods high in omega-3 fatty acids.
Avoid trans fats, processed meats, and charred or smoked foods.

Exercise: Evidence is growing that exercise can reduce breast cancer risk. The American Cancer Society recommends engaging in 45-60 minutes of physical exercise 5 or more days a week.
Alcohol consumption: Studies have shown that breast cancer risk increases with the amount of alcohol a woman drinks. Alcohol can limit your liver's ability to control blood levels of the hormone estrogen, which in turn can increase risk.
Smoking: Smoking is associated with a small increase in breast cancer risk.
Exposure to estrogen:

Taking combined hormone replacement therapy (estrogen and progesterone; HRT) for several years or more, or taking estrogen alone for more than 10 years.
Being overweight.
Regularly drinking alcohol.

Recent Oral Contraceptive Use: Using oral contraceptives (birth control pills) appears to slightly increase a woman's risk for breast cancer, but only for a limited period of time. Women who stopped using oral contraceptives more than 10 years ago do not appear to have any increased breast cancer risk.
Stress and Anxiety
Risk Factors You Can't Control
Gender:

Being a woman is the most significant risk factor for developing breast cancer. Although men can get breast cancer, women's breast cells are constantly changing and growing, mainly due to the activity of the female hormones estrogen and progesterone. This activity puts them at much greater risk for breast cancer.

Age:

Simply growing older is the second biggest risk factor for breast cancer. From age 30 to 39, the risk is 1 in 228, or .44%. That jumps to 1 in 29, or just under 3.5%, by the time you are in your 60s.

Family History of Breast Cancer:

If you have a first-degree relative (mother, daughter, sister) who has had breast cancer, or you have multiple relatives affected by breast or ovarian cancer (especially before they turned age 50), you could be at higher risk of getting breast cancer.

Personal History of Breast Cancer:

If you have already been diagnosed with breast cancer, your risk of developing it again, either in the same breast or the other breast, is higher than if you never had the disease.

Race:

White women are slightly more likely to develop breast cancer than are African American women. Asian, Hispanic, and Native American women have a lower risk of developing and dying from breast cancer.

Radiation Therapy to the Chest:

Having radiation therapy to the chest area as a child or young adult, as treatment for another cancer, significantly increases breast cancer risk. The increase in risk seems to be highest if the radiation was given while the breasts were still developing (during the teen years).

Breast Cellular Changes:

Unusual changes in breast cells found during a breast biopsy (removal of suspicious tissue for examination under a microscope) can be a risk factor for developing breast cancer. These changes include overgrowth of cells (called hyperplasia) or abnormal (atypical) appearance.

Exposure to Estrogen:

Because the female hormone estrogen stimulates breast cell growth, exposure to estrogen over long periods of time, without any breaks, can increase the risk of breast cancer. Some of these risk factors are not under your control, such as:

Starting menstruation (monthly periods) at a young age (before age 12).
Going through menopause (end of monthly cycles) at a late age (after 55).
Exposure to estrogens in the environment (such as hormones in meat or pesticides such as DDT, which produce estrogen-like substances when broken down by the body).

Pregnancy and Breastfeeding:

Pregnancy and breastfeeding reduce the overall number of menstrual cycles in a woman's lifetime, and this appears to reduce future breast cancer risk. Women who have never had a full-term pregnancy, or had their first full-term pregnancy after age 30, have an increased risk of breast cancer. For women who do have children, breastfeeding may slightly lower their breast cancer risk, especially if they continue breastfeeding for 1 1/2 to 2 years. For many women, however, breastfeeding for this long is neither possible nor practical.

DES Exposure:

Women who took a medication called diethylstilbestrol (DES), used to prevent miscarriage from the 1940s through the 1960s, have a slightly increased risk of breast cancer. Women whose mothers took DES during pregnancy may have a higher risk of breast cancer as well.
Handling Your Diagnosis
The actual process of diagnosis can take weeks and involve many different kinds of tests. Waiting for results can feel like a lifetime. The uncertainty stinks. But once you understand your own unique "big picture," you can make better decisions. You and your doctors can formulate a treatment plan tailored just for you.
Breast cancer can develop in the ducts that carry milk to the nipple, the lobules that produce milk, or the tissue in between. At your diagnosis, your breast surgeon will give you your diagnosis, and will also give appropriate websites to research more about the diagnosis that is specific to you.
A pathology report contains the results of tests on the cancer and nearby tissues. It provides information that you and your doctor can use to make the best treatment plan for your particular diagnosis. This will include your receptor status (estrogen, progesterone and HER2), and possibly your lymph node status based on your previous biopsy.
In recent years, there's been an explosion of life-saving treatment advances against breast cancer, bringing new hope and excitement. Instead of only one or two options, today there's an overwhelming menu of treatment choices that fight the complex mix of cells in each individual cancer. The decisions — surgery, then perhaps radiation, hormonal (anti-estrogen) therapy, and/or chemotherapy — can feel overwhelming. But our breast surgeons will help you understand your diagnosis in detail, and your available treatment options – so you can arrive at a treatment plan suited best for you.
Treatment
In recent years, there's been an explosion of life-saving treatment advances for breast cancer, bringing new hope and excitement. Instead of only one or two options, today there's an overwhelming menu of treatments that fight the complex mix of cells in each individual cancer. The decisions about surgery, radiation, hormonal (anti-estrogen) therapy, and/or chemotherapy, can feel overwhelming. Yet our team of highly trained breast surgeons and oncology physicians will help you understand all the available treatment options and find the one that best suits you. All cancer treatment at Hunterdon Regional Cancer Center and the Hunterdon Breast Surgery Center is under the guidance of the National Comprehensive Cancer Network (NCCN Guidelines). These guidelines are the recognized standard for clinical policy in cancer care and are the most detailed and most frequently updated clinical practice guidelines available in any area of medicine.